3752 Giles Avenue
St. Louis, MO 63116
314-773-1155
Worship Services
We are a welcoming congregation and we would love for your to join us on Sundays for a time of worship and fellowship. We are located at 3752 Giles Avenue at the corner of Giles and Chippewa in south St. Louis, just west of South Grand.
Sunday Schedule
9:30 AM - Worship Service
10:30 AM - Coffee and fellowship
11:00 AM - Christian Education
(NOTE: There is no Sunday School during the summer)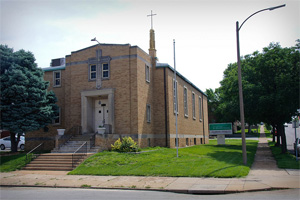 We are an Anabaptist Fellowship committed to being Kingdom People in the City
Through worship, Christian nurture, and study of the bible, we desire to grow in faith, deepening our relationship with God, and becoming more obedient to Christ's way.
We seek to go and make disciples, baptizing and teaching others in the faith. We are therefore committed to be a people of action- evangelizing and working for justice and peace and being involved in acts of caring for our people and neighbors in need.