3752 Giles Avenue
St. Louis, MO 63116
314-773-1155
Coronavirus Response
Due to the ongoing Coronavirus outbreak and our abundant love for each other and our community, the St. Louis Mennonite Fellowship will not meet in person for the foreseeable future. There will not be any activities in the church building as we practice creative ways of being church together while being physically distant. The Fellowship will instead meet digitally using a go-at-your-own pace worship service with links both for video or for text versions of the various elements. The order of service will be sent by email each week. Each Sunday we will also have a Zoom meeting available for the sharing of joys and concerns and praying together -- and we'll leave that call open for as long as people wish to stay and gather. If you would like to receive the weekly email, please contact us at stlmenno@gmail.com
Worship Services
We are a welcoming congregation and we would love for your to join us on Sundays for a time of worship and fellowship. We are located at 3752 Giles Avenue at the corner of Giles and Chippewa in south St. Louis, just west of South Grand.
Sunday Schedule
9:30 AM - Christian Education
10:30 AM - Coffee and fellowship
10:45 AM - Worship Service
(NOTE: There is no Sunday School during the summer)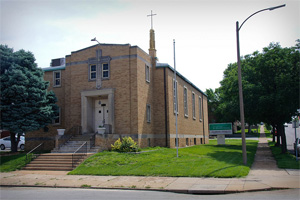 Online donation option
While physical distancing is the norm at the present time, we do continue to operate as a congregation and continue our outreach activities. We encourage you to browse the information on the site and if you'd like to financially support our work, you can donate via PayPal below.
SLMF is seeking a pastoral candidate!
Are you passionate about social justice in an urban setting? Do you wish to transform the lives within a community and empower others for ministry? Then consider joining the St. Louis Mennonite Church pastoral team! SLMF is seeking pastoral candidates to support our congregation and serve as part of our pastoral team. The pastor job description and overview of our congregational goals may be downloaded here. Interested parties should contact imcpastorsearch@gmail.com and specify SLMF pastoral team. SLMF is open to considering applicants across a range of experience levels. This pastor position is for .75-1.0 FTE.
---
We are an Anabaptist faith community in St. Louis. Guided by the ministry of Jesus Christ, we seek to live out Godís vision of love, peace and social justice. Through discernment of scripture and the guidance of the Holy Spirit, we strive to be a sign of Godís presence in the world and grow stronger together in faith and compassion.